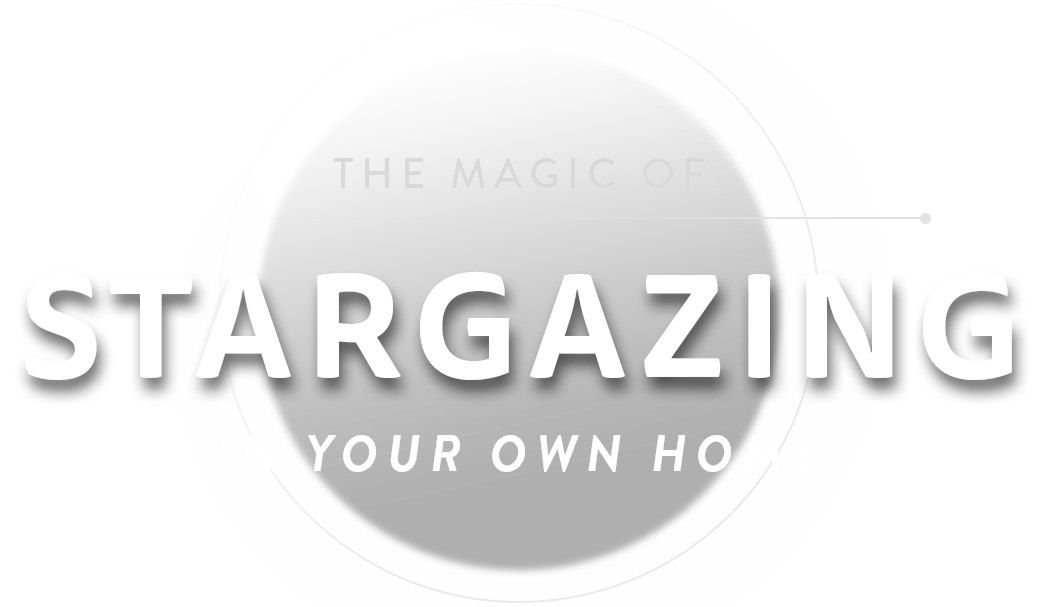 Can a hotel room make you healthier?
It's Time to Add Stargazing to Your Property.
Introducing some elements of biophilic design into the bedroom could go a long way to helping your guests get a better nights sleep.
STARSCAPES® Benefits to You:
We provide free internet advertising that lets customers know that your location has the uniquely upgraded STARSCAPES® rooms available. You'll receive an individually numbered Certificate of Authenticity (signed and dated by the Artist-Illusionist) suitable for framing and displayed in the guest room or lobby if so desired.
Minimal down time, we can do a full room in two to three hours, and a smaller skylite in one hour. Special "themes" are available also.
No odors from the paint, dries quick.
Never fades or goes bad. Glows for up to 25 years or more.
A peaceful, relaxing (and memorable) atmosphere for your guests.
Once people realize you have these very unique rooms, we feel occupancy rate should increase favorably, making for a quick return on a very wise investment.
STARSCAPES F/X®Heavenly Ceilings™ Stargazing Ceilings
STARSCAPES F/X® Heavenly Ceiling™ In-Room Stargazing, the newest most innovative amenity of the 21st century is now available. Invisible in daylight, it will not interfere with your room decor.
When the lamps are turned off, in a darkened room, the ceiling comes alive with with an incredible three-dimensional artistic illusion of a stunning star-filled sky usually only visible on a mountain top with a clear night. Your guests will see constellations like the Big Dipper and Little Dipper, Southern Cross, shooting stars, and the beautiful Milky Way.
Imagine your guests relaxing in their bed, gazing up at a thousand stars, a celestial view they won't soon forget. A view that they will find stress-relieving, calming. serene, and romantic.
STARSCAPES F/X® helps those who have trouble falling asleep away from home or fear the dark and have night frights. Makes the bedroom a perfect "haven getaway" for anyone to relax and relieve stress and fatigue.
Alpha brain waves increase. Metabolic rate decreases. Heart beats slower. Breathing becomes slower. Muscles relax. Blood pressure decreases.
Conversely, most people are uncomfortable in a strange dark room. STARSCAPES is the answer to repeat business and mega word-of-mouth social sharing due to the beneficial awesomeness.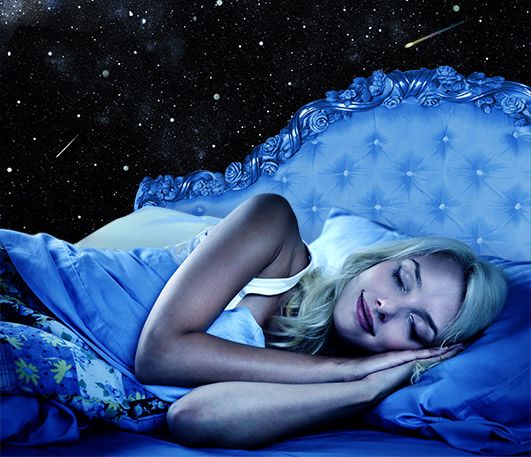 The STARSCAPES F/X® cosmic environment can enhance healing, health and wellbeing. Aids in problem solving, meditation, reflection, and creation of profound ideas. Creates the perfect environment for adult romantic conversation and intimacy.
STARSCAPES F/X® is a custom painted mural that covers the entire ceiling, or a partial ceiling above the bed. Walls can be included also. Furniture does not need to be moved. Installation takes a couple of hours. Guests can sleep in the room immediately.
Give us the opportunity to hear your thoughts and offer you a proposal for this very affordable and unique room amenity, that will amaze and delight your guests.
In just 5 minutes, you'll see with your own eyes, how wonderful it is. We promise that you'll be pleasantly amazed. And then, you'll realize that all of your guest rooms should have it. Contact us at one of our numbers, on the first page, to set up a time that would be convenient to you. Get started now before your competition does!
STARSCAPES is Ideal for:
Hotels, Boutique Hotels
Lodges, Motels, Inns
Resorts
Bed & Breakfasts
Castles
Cruise ships
and Spas
TRENDS LIKE THE WELLNESS TREND AREN'T GOING AWAY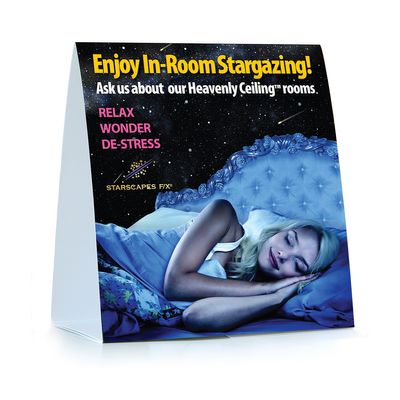 The largest hotel in Las Vegas, the MGM Grand just added 171 Stay Well rooms. They include:
An air purification system that uses HEPA technology to reduce allergens, pathogens and toxins.
A mini-bar stocked with items such as almonds, coconut water and yogurt-covered raisins.
Vitamin C Shower infusion to neutralize chlorine and promote healthy hair and skin.
Wake-Up Light Therapy that exposes guests to short periods of blue-shaded lighting to increase energy and reverse the effects of jet lag.
A water filtration system that provides purified, in-room water.
Can you see where the entire industry is heading? Stay Well rooms sell for an extra $30 a night on top of the regular room rate.
There is a "missing link" in the MGM program. The "Final Frontier" to the wellness amenities... their Heavenly Ceiling™.
We are the premier installer worldwide of these most excellent cosmic, relaxing ceilings. Call us today.